Your First Visit
At your first visit to our orthodontic office, we make some diagnostic records to determine the best course of treatment. Diagnostic records typically include photos of your face and teeth, as well as X-rays. We use this information to develop a custom treatment plan that's unique to your needs and goals. These records are also helpful in tracking the progress of your treatment as your teeth begin to move and shift into the optimal position.
After we have evaluated your records, we'll discuss our recommended treatment plan with you in detail.
Regular Appointments
Your first regular appointment is where the magic really happens. This is when we give you your appliances like braces, expanders, etc. Getting your appliances put on usually takes about an hour. Then, you'll visit us at regular intervals, about 4 to 8 weeks apart, so that we can look at how your teeth are shifting and make any adjustments needed. This type of appointment takes around 30 minutes.
It's important to note that patients are only seen by appointment only. We really make every effort to be on time for our patients and so we ask that you do your best to be on time for your appointments. Of course, we get it, life happens. If you know you're going to be a few minutes late or need to cancel an existing appointment please notify our team as soon as you can.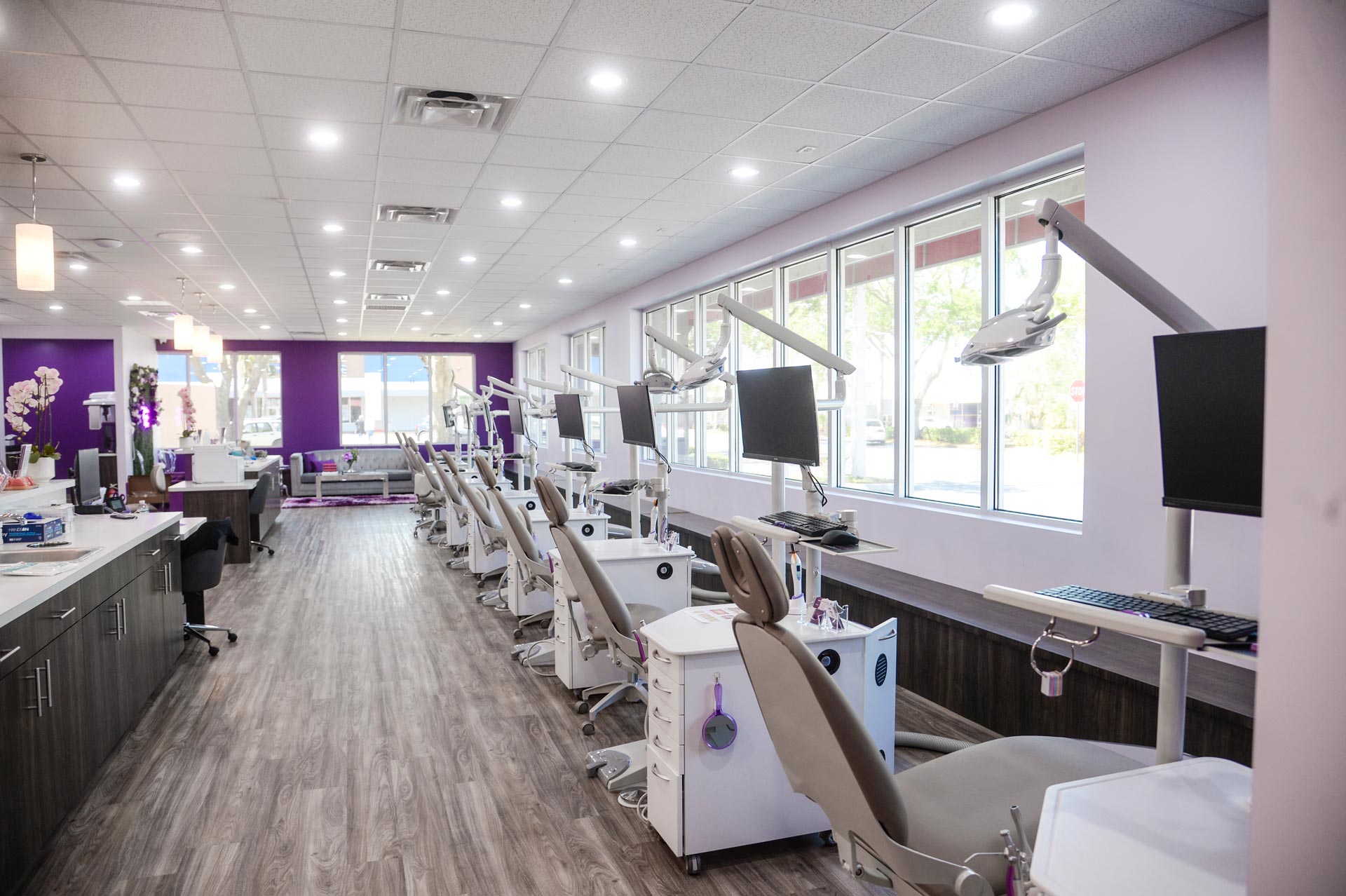 Financial Info
Affordable Payment Plans
We get it. Orthodontic care can be expensive. That's why we're committed to giving back to the communities we serve by making it affordable so that everyone can get a smile they're proud to show off. We offer braces and Invisalign for 60% less and with monthly payments as low as $99 per month, orthodontic care is more affordable than ever.
We Accept Insurance & Medicaid
Our office staff is ready and able to help you with insurance claims and the paperwork that goes with it. Not only that, but we'll also work with your insurance provider to make sure you get the most out of your benefits.
Some of the insurances we accept:
Commercial Insurers:
Aetna PPO
Allegiance
Ameritas
Anthem BCBS
Argus
BCBS of Florida
Blue Dental
Cigna PPO
Cigna HMO
Delta Care HMO
Delta Dental (of multiple states)
Florida Combined Life
GEHA
Guardian
Humana PPO
Humana HMO
Lincoln Financial
Metlife
Mutual of Omaha
Principal PPO
Sunlife
Tricare/UCCI
United Concordia PPO
United Healthcare
UNUM
Florida Medicaid Dental Insurers:


Will Medicaid cover the cost of braces?
For children under 21, Medicaid will cover the expenses of braces in the event that the need for braces is medically necessary. Once every year, your child can be assessed to determine whether braces are medically necessary. That means if you're denied one year, you can schedule another evaluation during the following year. Normally, they will permit three evaluation attempts.
Ortho PrePay
The Imagine Orthodontic Studio Prepay Program allows you to prepay for your child's orthodontic treatment and lock in the current rate of $2,998. The minimum monthly contribution for the program is $50 per month. At the time your child is ready for treatment, our office will verify your insurance and apply any current benefits. If any additional appliances are necessary the fee for those appliances will be added to the cost above at that time. If in the future you decide not to proceed with treatment, notify our office in writing, and we will issue a full refund within 10 business days of request.
Flex For Your Smile
You can use your Flex Spending Account (FSA) and your Health Savings Accounts (HSA) towards your orthodontic treatment!
Benefits include:
Retainer insurance
Starting new treatment
Professional whitening
Paying off your balance