Looking for a unique way to jazz up your style and your smile? Tooth gems or tooth jewels or Twinkles are a fun, safe, and intriguing way to add some interest to your appearance! Get a consultation for tooth jewelry with the experts at Imagine Orthodontics Studio.
What Are Tooth Gems / Tooth Jewels / Twinkles?
Tooth gems, also known as tooth jewelry, tooth bling, twinkles, or dental jewelry, are jewels attached to the teeth' visible surface. Dental jewels are semi-permanent and are bonded to the tooth by a certified orthodontist.
With a wide variety of celebrities wearing tooth bling and toothgems becoming more popular on platforms like Pinterest and TikTok, it's a great time to get in on the trend! Glow up your smile with tooth jewels installed by our orthodontic professionals.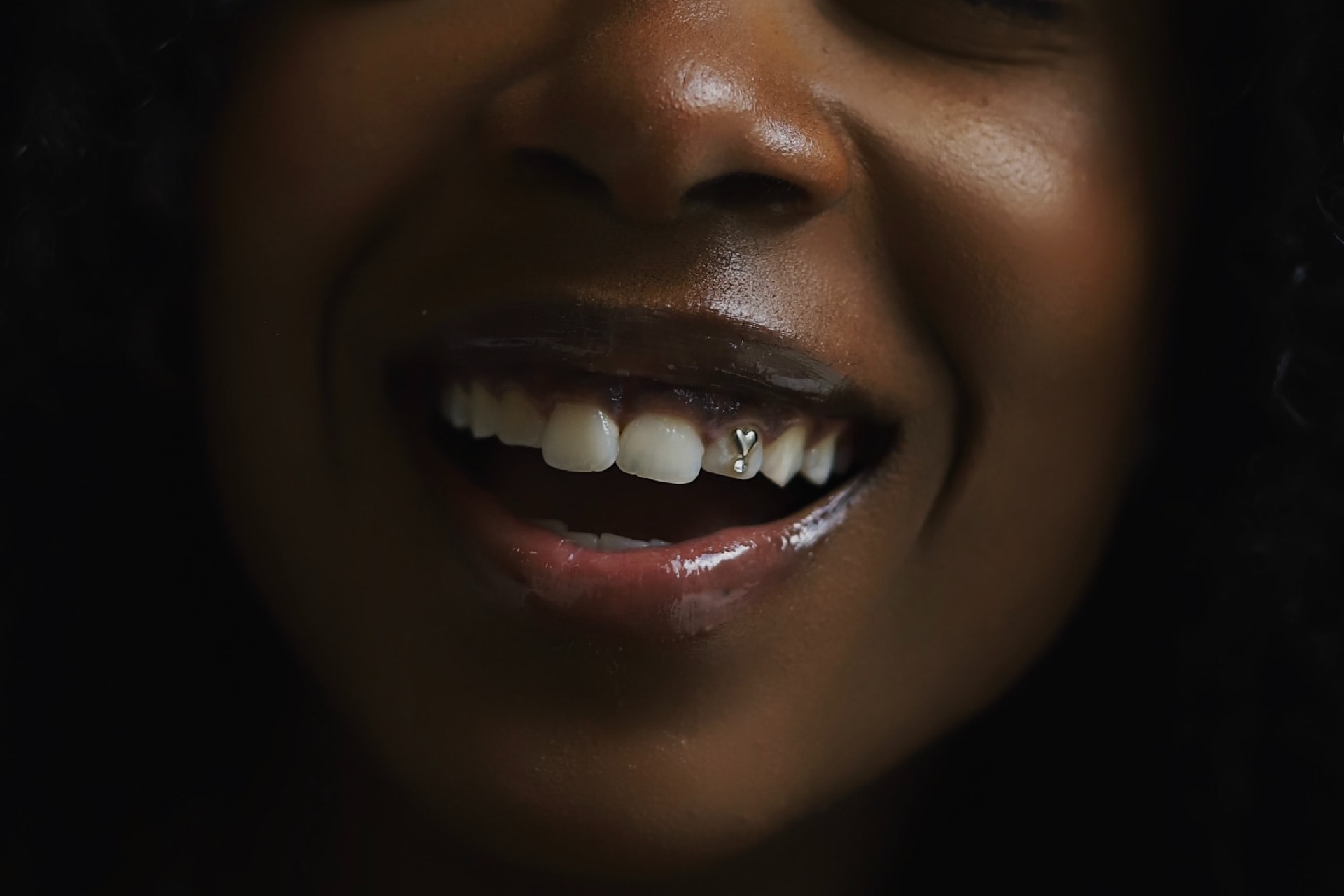 What Tooth Gem Designs Are Available?
When it comes to choosing and designing your tooth jewelry, your imagination is the limit! The experts at Imagine Orthodontics Studio will listen to your creative ideas and create bespoke tooth gem designs just for you.
We have many types of tooth jewels for everyone's unique style! If you want some tooth bling but don't know what to choose, we can recommend dental jewelry that fits your aesthetic.
How Are Tooth Gems Applied?
The first step toward a blingy smile is to request a consultation with us! We will assess whether your teeth are a good fit for dental jewels. During your free consultation, we will discuss your personal style and get a sense of what tooth gem designs you are interested in.
With semi-permanent tooth gems, there's no drilling or pain! We apply etching gel to the tooth in question, microscopically roughening the enamel for better adhesion. Then, the dental gems are bonded with a dental-grade adhesive and a curing lamp. Then viola, you're finished!
Due to the etching gel, you may feel a bit of sensitivity afterward if you have worn enamel. Other than that, make sure to continue brushing and flossing thoroughly to keep your tooth jewels shiny and sparkly!
Can I Apply Tooth Gems At Home?
While DIY kits and other methods are available, applying tooth jewels at home is not recommended! These products can be dangerous, toxic, and could cause lasting damage to your teeth.
To get great results from your tooth jewelry, it's crucial to leave it in the hands of a dental professional. Your dental health is crucial to your overall well-being, so think about your safety first, and have an expert install your tooth gems.
How Much Do Tooth Gems Cost?
Dental jewelry at Imagine Orthodontics Studio starts at just $100. Tooth gem costs will change depending on the dental jewelry material you choose, the extent of your tooth gem's design, and various other factors. When you come in for a consultation, we will give you a comprehensive quote for installation, removal, and the dental jewelry itself.
How Long Do Tooth Gems Last?
Most semi-permanent tooth gems can last up to 6 weeks to a year and will often fall off naturally and the end of their life cycle. That being said, every individual's diet, body chemistry, and lifestyle will affect the staying power of tooth gem jewelry.
If you decide you want to remove your tooth gems or change up the design, we can easily and safely remove them. They can be polished off along with the adhesive!
Taking good care of your tooth gems can improve their stability. During the first 24 hours after application, avoid hard or acidic foods that may interrupt the adhesion of the tooth jewels. Be sure to brush and floss around the areas to prevent plaque, cavities, and tooth decay.
If gems fall off in the first 3 weeks after application, we will replace them at no charge.
Are You Considering A Tooth Gem? Contact Us To Learn More!
If you're looking to spice up your look, tooth gems are a cool way to dazzle up your smile! We offer many types of tooth gems jewelry to fit your personal style.
There aren't many places that do tooth gems in the Tampa, St. Petersburg, Clearwater, and Lakeland areas. Imagine Orthodontics Studio is here to provide premium, professional dental jewelry, and unique tooth gem designs for our community. Request a free consultation with us today!