Types Of Braces
When it comes to glowing up your smile, your imagination is the limit! At Imagine Orthodontic Studio, we are passionate about improving smiles with cutting-edge technology and custom teeth braces that match your lifestyle and aesthetic.
If you're looking for the best dental braces in St. Petersburg, Tampa, Lakeland, or Clearwater FL, look no further! At Imagine, we love crafting beautiful smiles in our community. Don't wait to get the smile you've always wanted. Request a free in-person or virtual consultation today!
Imagine Braces Differently
Modern braces aren't the clunky, noticeable appliances they used to be. Now, they are sleeker, more compact, and more comfortable than ever before. Plus, you can choose from many braces colors to customize your look. We even offer gold and rose gold braces, so your orthodontic treatment can be your favorite accessory!
Traditional Metal Braces
There's a reason that traditional metal braces are still one of the most popular ways to align your smile. This tried-and-true orthodontic treatment is durable and effective, allowing us to treat even the most severe orthodontic conditions.
You'll also love our wide range of braces colors! We're proud to offer finishes in Gold, Rose Gold, Classic Black, Rainbow, and Blue!
How Do Braces Work?
All orthodontic treatments work by exerting consistent pressure on the teeth and jaw. Over time, they respond to this pressure by moving into the desired alignment. This can be achieved with a traditional bracket and wire system or with clear aligners.
What are the Benefits Of Braces Treatment?
While orthodontic treatment is a major upgrade to your appearance, it is also a great investment in your health! When teeth are misaligned, they are more difficult to clean, allowing food particles to get stuck and break down into plaque. This means an increased risk of tooth decay, gum disease, and other problems.
Here are just some of the perks that come with an aligned smile:
Improved speech
Reduced risk of oral injuries
Eliminating future dental procedures
Reduced risk of TMJ and chronic headaches
And more!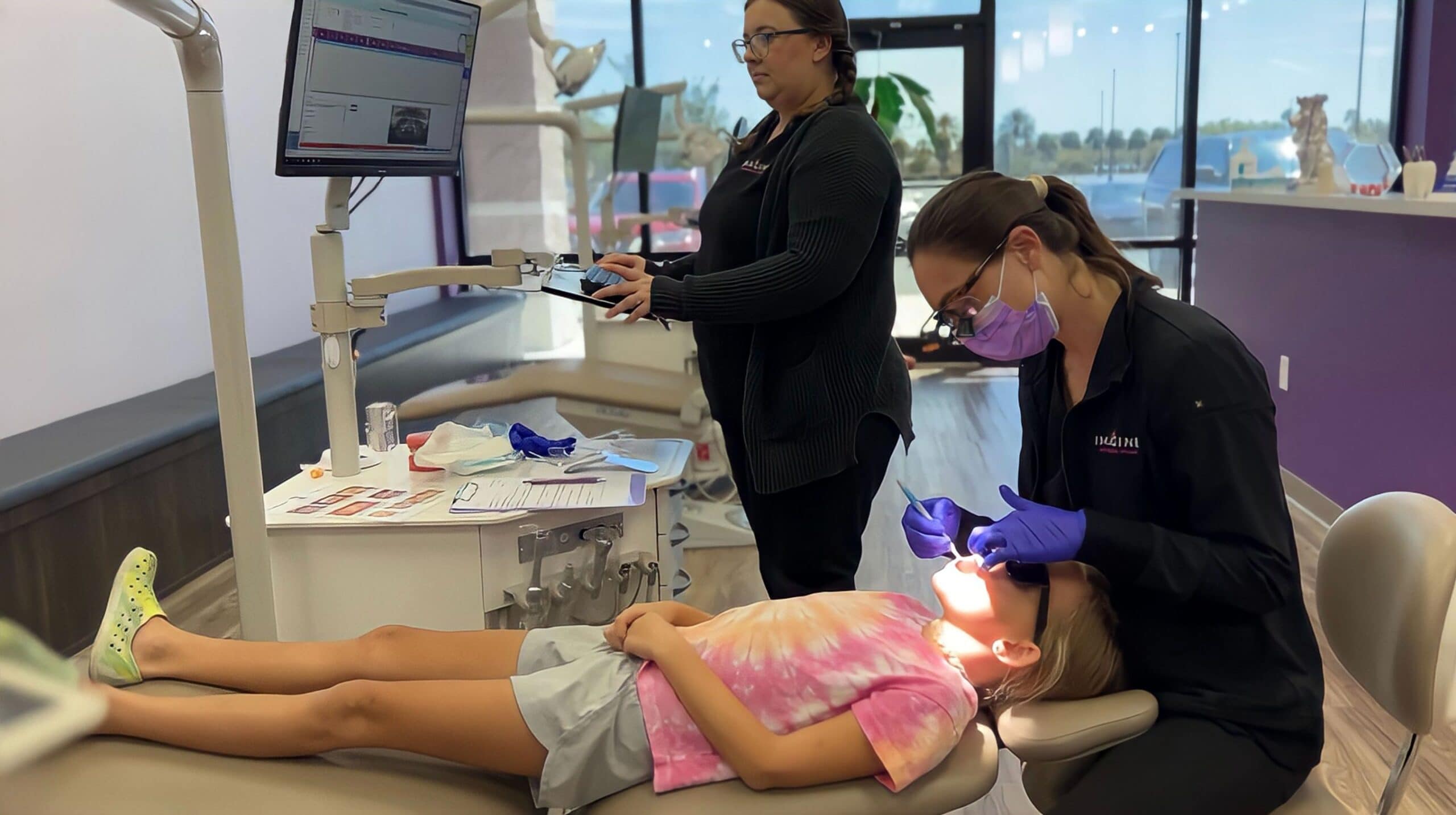 Braces For Kids
Getting braces as a kid can be intimidating, but we make it awesome! The smile team at Imagine Orthodontic Studio helps children develop strong, bright smiles that promote great oral health through adolescence and beyond.
They'll be ready to conquer their teen years with confidence and feel great about their smiles with a team of passionate professionals who make their braces feel like VIP treatment.
Early Treatment With Braces
Early orthodontic intervention is great for children because it can help correct and prevent issues that could be more difficult and expensive to treat later in life. Children's jaws are also very malleable because they're still growing — this means they can receive even better results through early braces treatment and experience lifelong benefits.
Investing in early orthodontic treatment for your child means a straighter smile, greater self-confidence, and easier oral health care that leads to fewer visits and lower treatment costs in the future.
Signs that your child might benefit from braces include:
Teeth that extend behind or in front of the lower jaw (underbite or overbite)
A misaligned jaw or crooked teeth
Shifted teeth from thumb sucking, late pacifier use, or drinking from bottles after age two
Gaps between teeth that are not shifting closer together with age
Teeth that do not close together when your child's mouth is shut
Cracking or popping sounds when your child opens or closes their mouth
Chronic teeth grinding, either during the day or when they sleep
Please reach out to us if you have any questions about your child's oral health! The whole team is always here to help.
What to Expect With Braces For Kids
When you and your child visit us for a braces consultation, we include them in every part of the process. We believe that children should be actively involved in their orthodontic treatment. Not only does this make them feel more confident and excited about their braces, but it also helps reduce any anxiety and stress they may have about treatment.
One of our orthodontists will examine your child's mouth and determine if they're a good candidate for braces or if they should have them in the future. They'll also discuss different braces options, like ceramic, metal, self-ligating, or even Invisalign.
The initial evaluation process examines your child's mouth, jaw, and teeth to determine what types of braces would work for them and how long they may need treatment.
We will answer any questions your child has, show them models of teeth, 3D images of their mouth, and get them excited about the prospect of getting braces.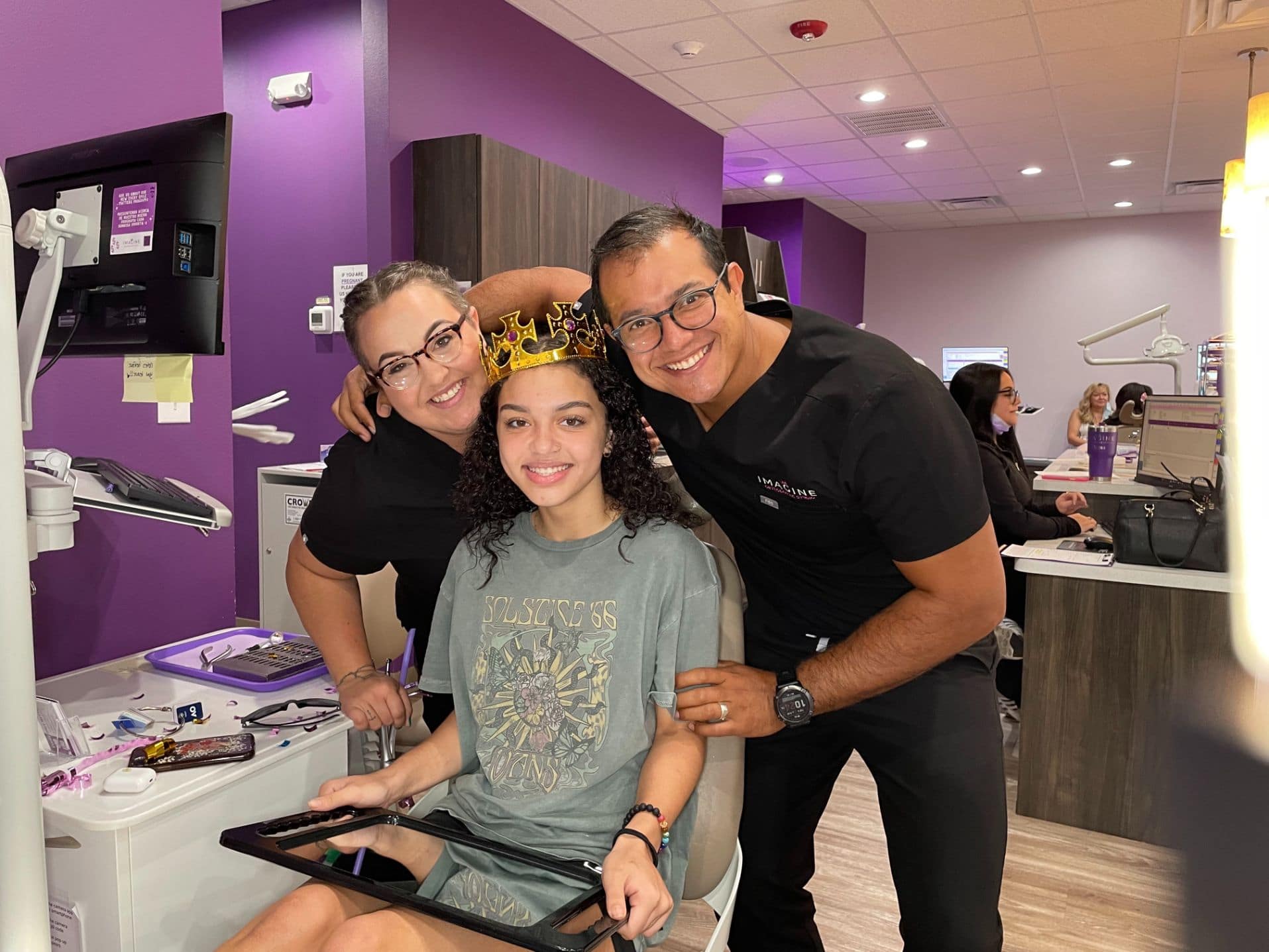 Braces For Teens
Braces have come a long way in the 21st century, and new orthodontic technologies get teens on the road to a lifetime of bright, confident smiles quicker and more efficiently than ever before. We offer a variety of affordable treatment options to suit every teen's busy lifestyle!
How Long Will My Teen Need to Wear Braces?
Teens typically wear braces for 18-24 months, but treatment time may vary depending on several variables. Certain issues like crowding or misalignment of teeth may require a longer treatment time, and each body responds differently to their treatment.
The most important factor is the patient! Taking care of your braces, visiting your orthodontist for regular checkups, and following all instructions can ensure that you get to your fabulous new smile as quickly as possible!
The Right Orthodontist For Your Teen
Choosing an orthodontist you trust to treat your teen can be a challenge, and at Imagine Orthodontic Studio, we're proud to provide affordable, world-class care to our community.
During your free consultation, our incredible team will perform imaging and a thorough exam to determine whether your teen needs braces. We will answer your questions about the treatment plan and financing options.
Trust us to provide the very best teen orthodontic care in Lakeland, St. Petersburg, Clearwater, and Tampa. Contact us today to request a free in-person or virtual consultation!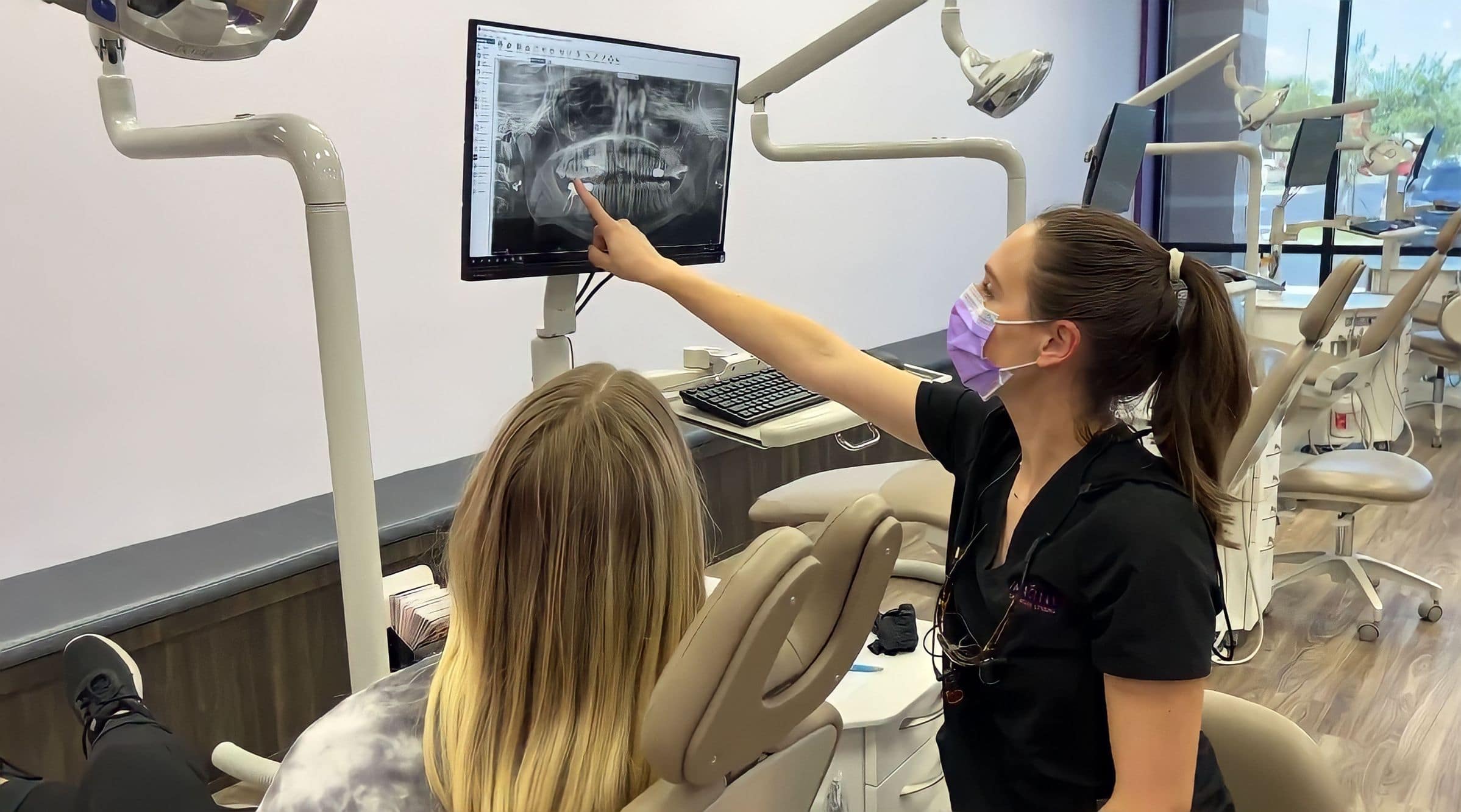 Braces For Adults
Can adults get braces? The short answer is, yes, of course! While many associate braces with younger people, it's always a good time to improve your smile with orthodontic treatment. Find answers to your burning questions about your adult braces options, getting braces as an adult, and more from the experts at Imagine Orthodontic Studio!
Benefits of Adult Braces
While straight teeth are a great aesthetic perk of adult braces, orthodontic treatment also improves your health! Some benefits of adult braces include:
Reduced risk of tooth decay and gum disease
Decreased risk of oral injury
Easier biting / chewing
Temporomandibular Joint (TMJ) improvements
Decreases risk of bone loss
Boosts your self-confidence
Imagine Braces for Adults
Modern orthodontic technology has improved greatly in the past few years, so adult braces options are easier and more effective than ever. We have a few types of orthodontic treatments, and we can create the best plan for your needs.
It's always a great time to glow up your smile! With braces starting at only $2,998, we offer affordable braces for adults, so you can get the orthodontic care you need with less stress on your wallet. We also have financing plans available to get the most out of your adult braces investment.
Don't wait — it's time to start your smile journey with Imagine Orthodontic Studio! Request a free consultation today.