About Invisalign
Patients love Invisalign's invisible, removable, and comfortable design! These clear aligners gently and effectively shift teeth into their optimal position. It's no wonder that Invisalign treatment is one of the most popular options.
At Imagine Orthodontic Studio, we are a Diamond Plus Invisalign Provider, which is the highest status an orthodontist can achieve and indicates that we are the most experienced to treat even the most complex cases. We are committed to delivering stunning results with Invisalign in Clearwater, Lakeland, St. Petersburg, Tampa, and surrounding communities!
What Is Invisalign, And How Does It Work?
Invisalign has revolutionized how orthodontists correct misaligned teeth. One of the most significant advantages of Invisalign clear aligners is their transparent design, which blends in with your teeth, making them less noticeable than traditional braces. The aligners are also removable, allowing you to eat, brush, and floss as you normally would.
During your initial exam, we will use advanced technology to create a 3-D rendering of your mouth to design a personalized treatment plan that addresses your unique dental needs.
We will then create customized aligner trays that you switch every week to gradually reveal your new smile. Our team of experts will provide an estimated timeframe for your orthodontic treatment based on your individual needs.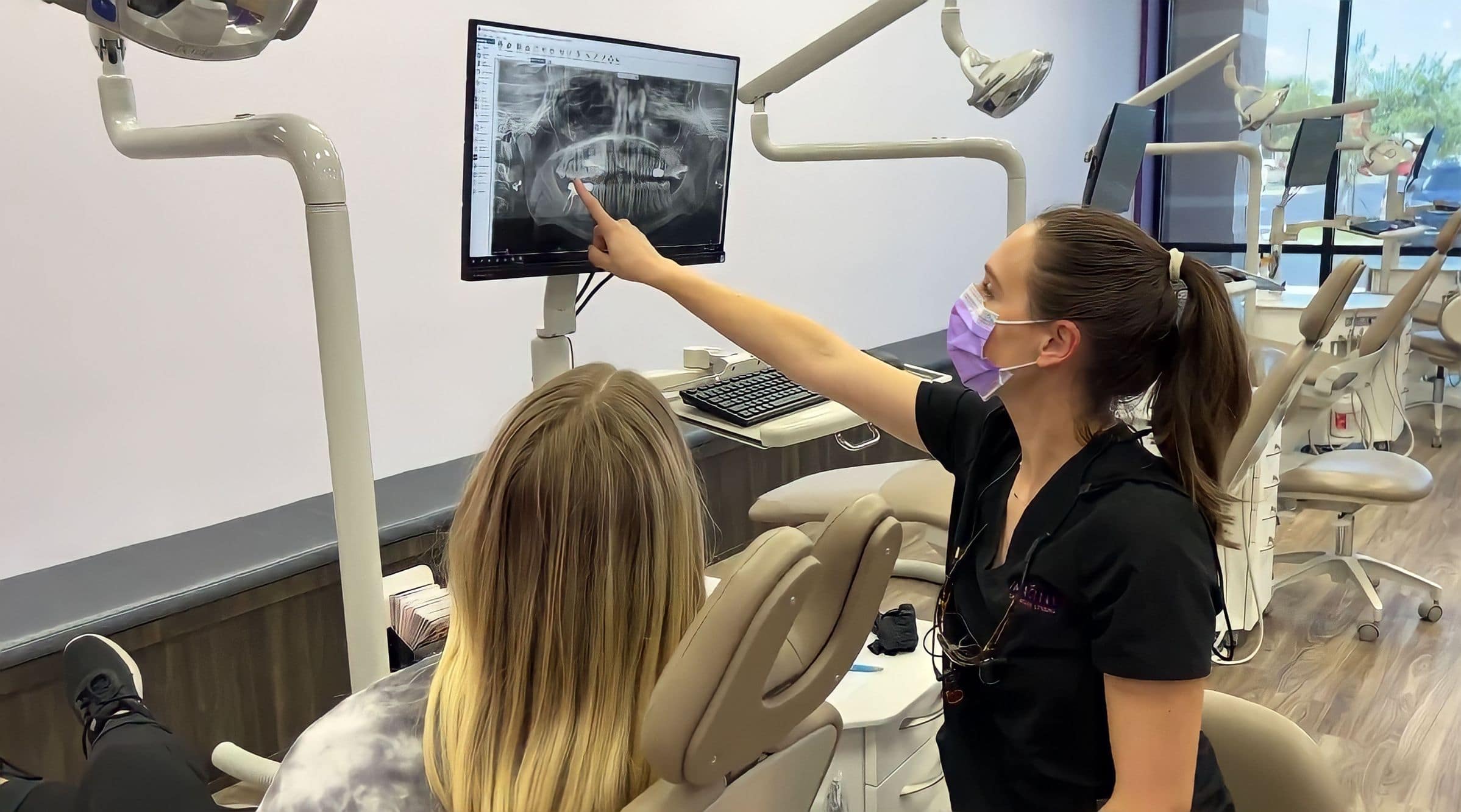 What Can Invisalign Correct?
Invisalign has come a long way in the past few years and can fix more bite malocclusions than ever before! These clear aligners can fix many mild to moderate bite problems, such as:
Overbite
When the upper front teeth overlap with the lower front teeth. While common, if the gap is too large, it can cause premature wear and tear, jaw pain, and misalignment. Invisalign will fix this issue by shifting the teeth into a healthier position.
Underbite
When the lower front teeth sit in front of the upper arch of teeth due to the lower jaw being too far forward. It can make chewing and speaking difficult and cause teeth to wear down. Invisalign will fix some underbites, but severe cases may require additional oral surgery.
Crossbite
When some upper teeth sit behind lower teeth, causing wear and tear, chips, gum recession, sensitivity, and even bone loss. Invisalign will fix some crossbites, but a consultation is recommended to determine the best treatment.
Gapped Teeth
When there are spaces or gaps between teeth and make it harder to clean teeth and gums. This can cause sore gums and lead to gum disease. Invisalign will close these gaps, creating a straighter and healthier smile.
Open Bite
When upper and lower front teeth do not touch when the mouth is closed. This can make it difficult to bite or chew certain foods. Invisalign will gradually reposition the bite, aligning all teeth to sit straight.
Crowded Teeth
When there isn't enough room in the mouth for teeth to sit straight. Crowded teeth make it hard to brush and floss properly and can lead to tooth decay, cavities, and gum disease. Invisalign will fix most cases of crowded teeth, and a consultation with a dentist is recommended.
While Invisalign is capable of fixing many types of bite malocclusions, it may not be right for patients with more severe cases. Our expert orthodontists will assess your needs and let you know whether Invisalign is right for you.
What Are the Benefits of Invisalign?
Faster Treatment — Invisalign can deliver faster results, with some patients seeing results in as little as 6 months!
Proven Results — SmartTrack material and SmartForce design are clinically proven to improve tooth movement control with Invisalign clear aligners.
Better Fit — Invisalign clear aligners are comfortable, easy to wear, and fit seamlessly onto the teeth.
Effective — Invisalign aligners can effectively treat a wide range of conditions, such as overbites, underbites, and gapped teeth.
Virtually Invisible — Invisalign aligners are nearly undetectable, making them an excellent choice for people who want to keep their treatment discreet.
Comfortable — Invisalign aligner trays are smooth and comfortable to wear and can be removed easily for regular activities like brushing, flossing, and eating.
Convenient — With Invisalign, you only need to visit our office every six weeks, making it an ideal option for busy schedules.
Invisalign treatment can benefit individuals of all ages, from children to adults, by helping them achieve a healthier smile. Our orthodontists are nationally recognized experts who are capable of providing exceptional Invisalign treatment, whether your case is simple or complex!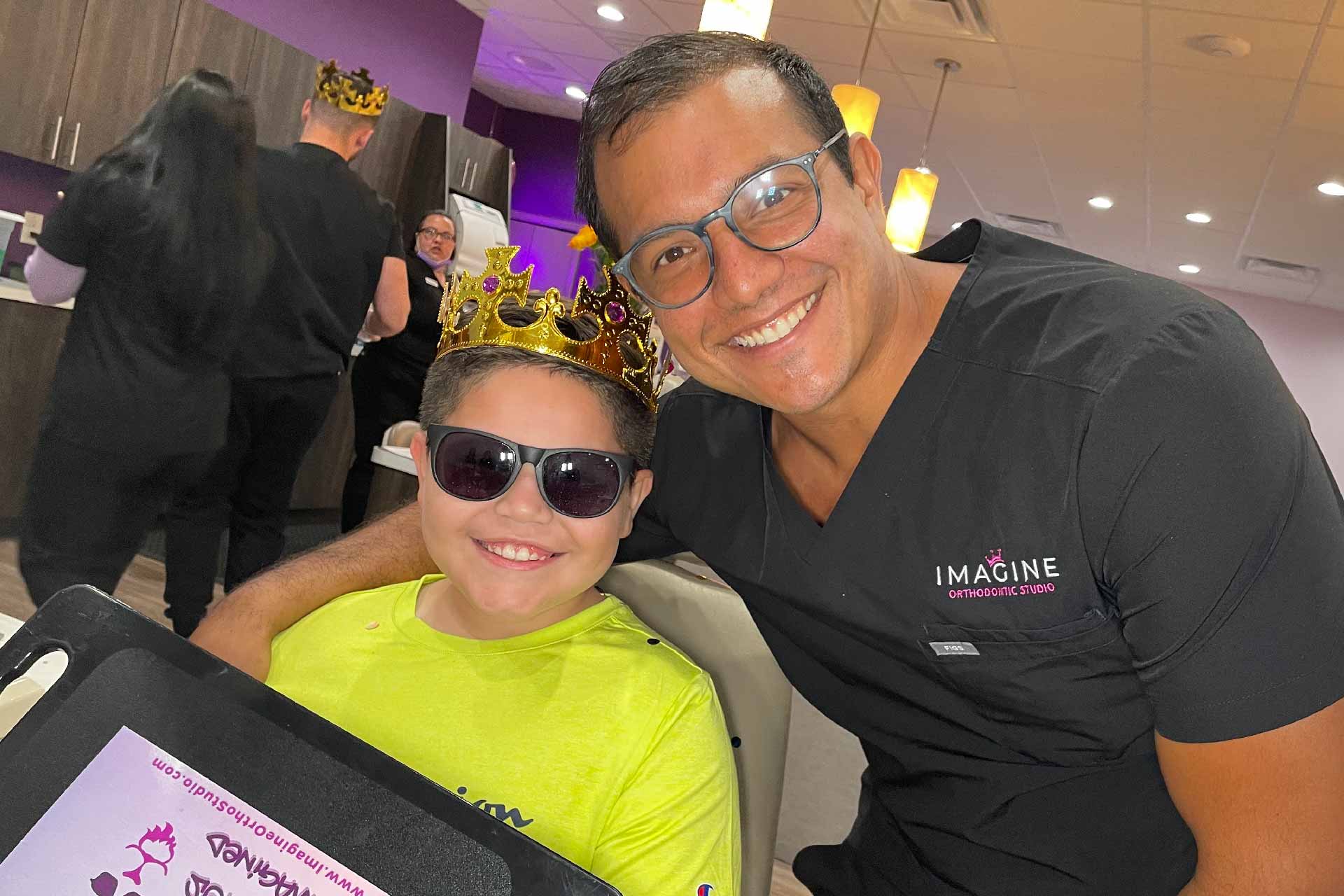 Invisalign For Kids
Invisalign for kids is a great way to help straighten your child's teeth and make their happy smile even more beautiful.
Invisalign for kids can produce the same great results as braces without the need for adjustments! This means fewer appointments and less discomfort without compromising results.
Early Treatment With Invisalign For Kids
We recommend Invisalign for children aged 6 to 10 who have mild to moderate misalignments. This is known as Phase 1 orthodontic treatment.
Phase 1 helps prevent future orthodontic issues by addressing them at the earliest stage possible. Through early Invisalign treatment, we can help our youngest patients by gently guiding their jaws and/or arches to make room for their impending adult teeth.
While they're still learning good oral hygiene habits, your child can also receive discreet, comfortable treatment that sets them up for a lifetime of happy smiles.
Is My Child A Candidate For Invisalign?
Even if they still have their baby teeth, your child may be a good candidate for Invisalign!
Every child should see an orthodontist around age seven to ensure that their jaw and teeth are developing properly. One of our three board-certified orthodontists can let you know whether your child could benefit from Invisalign now or if you should consider it as their teeth develop more.
We'll determine whether Invisalign is a good treatment for your child based on the following:
The Current Alignment Of Their Teeth — Children who have severe overcrowding or extremely large spaces between their teeth may benefit more from traditional braces.
Your Child's Age — Maintaining Invisalign aligners is a big responsibility, and younger children may not have the ability to properly care for them. We consider each child's ability to ensure they can keep their aligners in for at least 20 hours a day and not get them dirty.
Your Child's Extracurricular Activities — Children who play sports, especially those with a risk of high contact and require a mouthguard, may not qualify for Invisalign as this could potentially damage their aligners.
Your Child's Preferences — We want both parents and kids to be 100 percent satisfied with our orthodontic treatments. When children are entirely onboard, they're also more likely to follow instructions and do their best to take care of their teeth.
Benefits Of Invisalign For Kids
Getting Invisalign is a big change for children, but it can have lifelong benefits for their oral health. We're excited that you are considering the possibility of Invisalign for your little one's smile.
Discreet Appearance
Children who do not want to wear regular braces or feel self-conscious about them may feel happier wearing clear aligners.
No Adjustments Necessary
Children will have regular follow-ups with their orthodontist, but they never need to have aligners adjusted the way braces do. This minimizes discomfort and completely eliminates the need for more lengthy visits.
Zero Food Restrictions
From pizza to ice cream cake and, of course, plenty of fruits and veggies, children can eat all their favorite foods with Invisalign. The trays are removed during meals and placed back in after your child brushes their teeth. You won't have to worry about food getting caught in their braces or making an urgent visit to remove something that's gotten caught in their wires.
Cleaner Teeth
It's easier to keep teeth properly cleaned with Invisalign as the trays are always removed. Since children are still learning how to take the best care of their oral hygiene, Invisalign can be a great way to help them continue making strides with good brushing and flossing habits.
Improved Speech & Chewing
For some patients, their misalignment has caused them to speak with a lisp or impacted their ability to chew properly. Invisalign may be able to improve symptoms caused by their jaw or teeth placement and correct them discretely.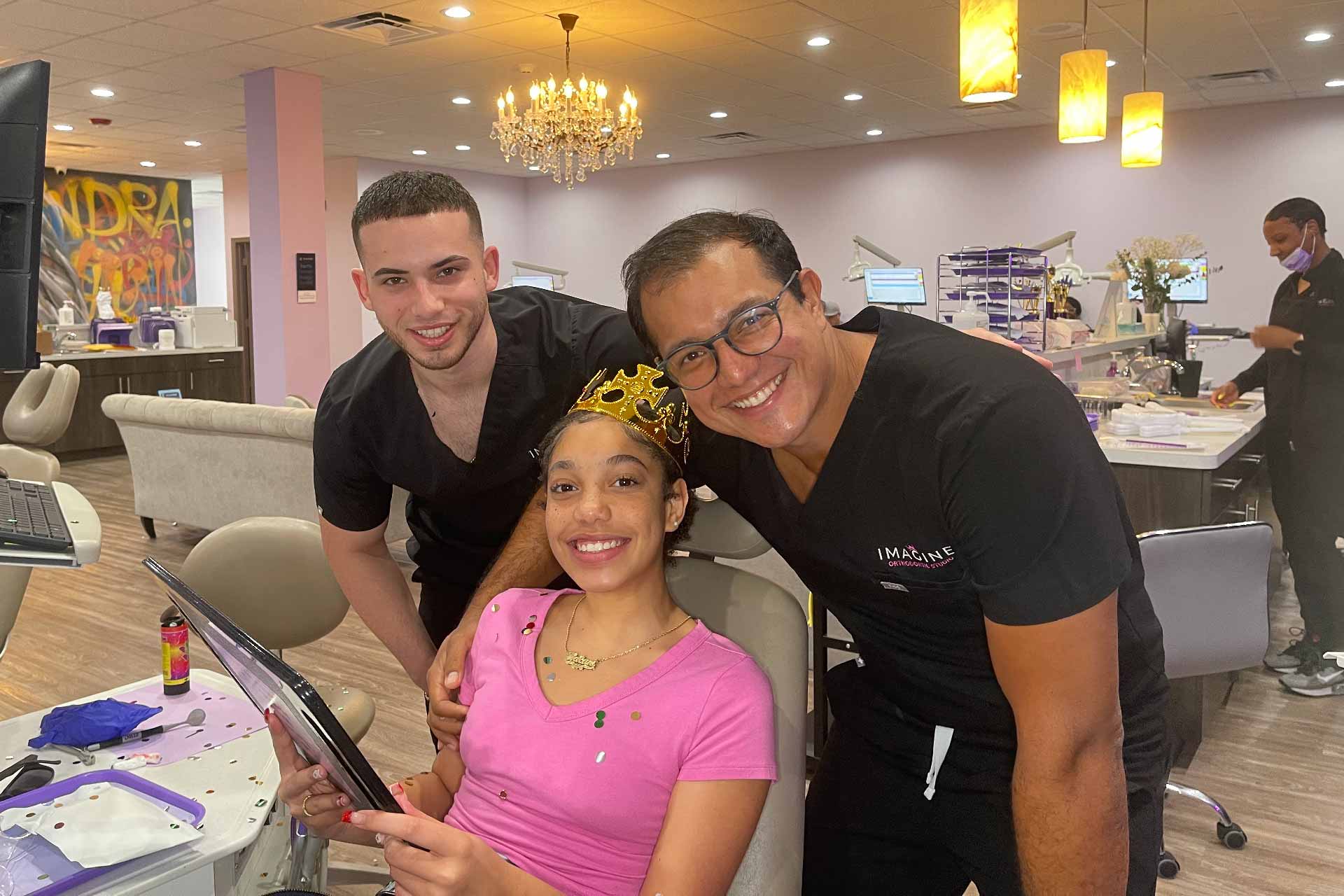 Invisalign For Teens
Invisalign offers teens a great alternative to braces that are completely low-key. Even though we make traditional braces look pretty great, we understand that you may want something more discreet as you straighten your teeth. Invisalign for teens can give you your dream smile in style.
What Makes Invisalign Teen Different?
Invisalign is the best alternative to braces for teenagers. While you may have noticed a lot of your friends getting braces, you may feel like they're way more trouble than you'd like something less noticeable.
The aligners themselves are completely smooth and transparent, so there's no irritation to worry about. Instead of having metal brackets, wires, and possibly rubber bands to manage, all you need to do is pop in your tray for the day.
It is important to wear your Invisalign for 20-22 hours a day, though. While braces are attached to your teeth, Invisalign comes out whenever you eat and brush your teeth. You'll still sleep with them on.
How The Invisalign System Works With Teens
Invisalign for teens works just like braces — the aligners gradually shift your teeth and jaw into a good position by applying constant, painless pressure. Every aligner is custom-made to fit your smile.
We take 3D digital impressions of your teeth to make sure that your Invisalign trays perfectly fit your mouth. This minimizes the risk of any discomfort and guarantees the best results in a shorter time period.
Invisalign For Adults
Straightening your teeth in adulthood can be frustrating if you aren't a fan of the look of braces. Many of our adult patients have opted for Invisalign thanks to its ultra-smooth, invisible appearance and ease of use.
With Invisalign, you don't need to worry about avoiding your favorite foods, getting adjustments, or feeling self-conscious about wearing braces as an adult. Instead, you can simply insert your tray and enjoy nearly 24-hour straightening wherever you are.
A Beautiful Smile at Any Age
Our Invisalign treatments for adults are available to qualifying patients of all ages. It doesn't matter whether you're 27 or 50. We can custom-fit your aligners in our office and give you your dream smile in a matter of 12 to 18 months.
If you have always wanted straighter teeth but held off on treatment because you didn't want to wear braces, now could be the perfect time to reach out. Our Invisalign treatments are all managed under the care of board-certified orthodontists who have been given the highest title of Invisalign expertise — Diamond Plus Invisalign providers.
How Does Orthodontic Treatment For Adults Help?
Orthodontic care is not solely for children and teens. Adults can benefit from having a straighter smile too. In addition to boosting self-confidence, there are many practical reasons to seek orthodontic treatment.
A straighter smile also means greater alignment and more comfort. If you struggle with discomfort from your teeth or jaw positioning, then Invisalign can help correct these issues.
Furthermore, you can maintain greater oral hygiene by having teeth that are easy to floss and brush thoroughly. This can reduce the risk of future oral health problems, such as tooth decay, cavities, and gum disease.
Common Orthodontic Issues
The smile team at Imagine Orthodontic Studio is here to help you correct any issues caused by improper alignment. Your teeth and jaw must both be positioned correctly to avoid common issues such as:
Gaps between your teeth (diastema)
Your teeth do not line up when your mouth is closed (crossbite)
Your lower teeth protrude from your upper teeth (underbite)
Your upper teeth protrude above your lower teeth (overbite)
Your teeth don't touch each other when your mouth is closed (open bite)
If you would like to learn more about our Invisalign services, please contact us to request a free consultation! We look forward to meeting you!